Are you fed up with your current tenant referencing partner? Maybe they've changed, the relationship has gone stale, or you're keen to see what else is on the market? Well, the good news is that, unlike a marriage, it's easy to break up with your existing provider. What's more, this blog will help you decide whether it's time to start over with someone new.
Below you'll find everything you need to know about the different options out there. Some platforms you'll no doubt be familiar with. Others? Not so much. So stay tuned and you might find yourself in the arms of an attractive new referencing partner. Are you quivering with anticipation? Then let's begin …
What to look for in a referencing partner
We start by reiterating the vital importance of trust in any relationship. Landlords are letting agents' lifeblood; therefore installing a terrible tenant in their beloved property is tantamount to business suicide. The thoroughness of your tenant referencing provider's checks should therefore top your agenda. 
However, there are other factors to consider too. The main one being efficiency. Of the five things agents dislike most about the tenant referencing process, "it takes too long" is number one. It takes time for tenant referencing providers to compile numerous documents and sort them manually. Chasing updates, to see if references have arrived, is another agent pet peeve. Nothing grates more than needing to nag your partner.     
Other than trustworthiness and speed, the other big gripe is expense. Since the Tenant Fees Act was introduced, and tenants can no longer be charged for the process, agents have been looking for ways to save money. This has led to more competition between referencing providers over price. So what's the going rate these days?
Traditional referencing, where a person does the heavy lifting, still costs around £15 per reference. That's not an insignificant amount and it all adds up pretty quickly. Consequently, new digital providers with low overheads have sensed an opportunity to undercut their rivals. The result? A digital reference can cost as little as £5 per pop. 
It's important to remember, however, that traditional and digital tenant checks have slightly different strengths and weaknesses so we're not exactly comparing like with like. For example, traditional referencing might be more expensive but it's generally known for being more thorough. It's therefore up to you, as the agent, to make the right call for your specific agency. What's the most important thing to you? 
It's also imperative to remember that not all referencing platforms were born equal. That's why we've conducted an in-depth analysis below that considers the likes of Homelet, Vouch, Tenant Shop, Canopy, Lettings Hub, Goodlord, Van Mildert, and Blinc. After reading our analysis you can decide whether a traditional or digital referencing provider is best placed to keep you warm at night. 
Traditional values
For many agents, the appeal of traditional tenant referencing is familiarity. Why shop around if your needs are being met and you're comfortable in your existing relationship? No flashier model is going to turn your head if you've found a keeper. 
What's more, we shouldn't forget that property is still a people-orientated business. It's good to talk. And many agents prefer human interaction to pressing buttons. However, the reliability of the traditional referencing process does come with the aforementioned downside: manual tasks take time and effort. This means they're higher maintenance. 
The actual process of traditional referencing hasn't changed for years: applicants provide some ID (usually a passport or driving licence) and the referencing professional runs all the usual tenant checks. This involves compiling information and then cross-referencing to ensure that everything aligns. Meanwhile, the applicant has to print out application forms and provide other supporting documents too. This either culminates with a trip to the post office or a close encounter with a scanner and email. 
The big benefit of this process, however, is that the checks are usually comprehensive. Eagle-eyed referencing professionals are good at spotting fraudulent applications (although they're not infallible) and most traditional referencing agencies have been honing their skills for years. Therefore, they're rather good at it. 
The digital difference  
Digital tenant referencing offers a contrast. It's not to everyone's taste, as it can feel somewhat impersonal, but it does come with one rather large advantage: it's so much faster. Tired of constantly chasing your referencing professional? Then you'll be instantly attracted to digital referencing. Want to log into a dashboard that shows where you are in the referencing process? Then you could be on the verge of a bona fide love affair. 
The great thing about digital tenant checks is that they cut down legwork considerably. Instead of having to complete and submit cumbersome forms, then wait as a person manually reviews and interrogates the submitted documents, digital solutions are able to automate many processes. This saves an enormous amount of time and money.
The drawback, of course, is that not everyone loves dealing with an interface. However, if you're more of a Luddite than a tech lover, know this before you turn the digital option down: most digital tenant referencing solutions are intelligently designed, intuitive, and remarkably easy to use. 
Digital providers like Vouch and Canopy are very straightforward as well as faster than traditional methods. Agents soon find that checking their dashboard becomes second nature and a part of their daily routine. What's more, all the information agents need is at their fingertips: they can check invoices, order additional services, and keep track of Right to Rent expiry dates in a few clicks. 
The efficacy of digital solutions, as well as their low entry-level price of around £5 per reference, makes them the perfect match for agents looking to boost their bottom line. No wonder that so many people believe that digital referencing is the future. However, it's vital to choose a digital referencing platform with rigorous checking processes. Look for those offering anti-money laundering, CCJ and IVA checks as well as all the usual employer and income referencing. 
Which features do you need?
It's time to talk specifics now. We've outlined the main differences between traditional and digital tenant checks but what individual features can you expect from each? Below you'll find a table that reveals all. We've added our own solution for good measure.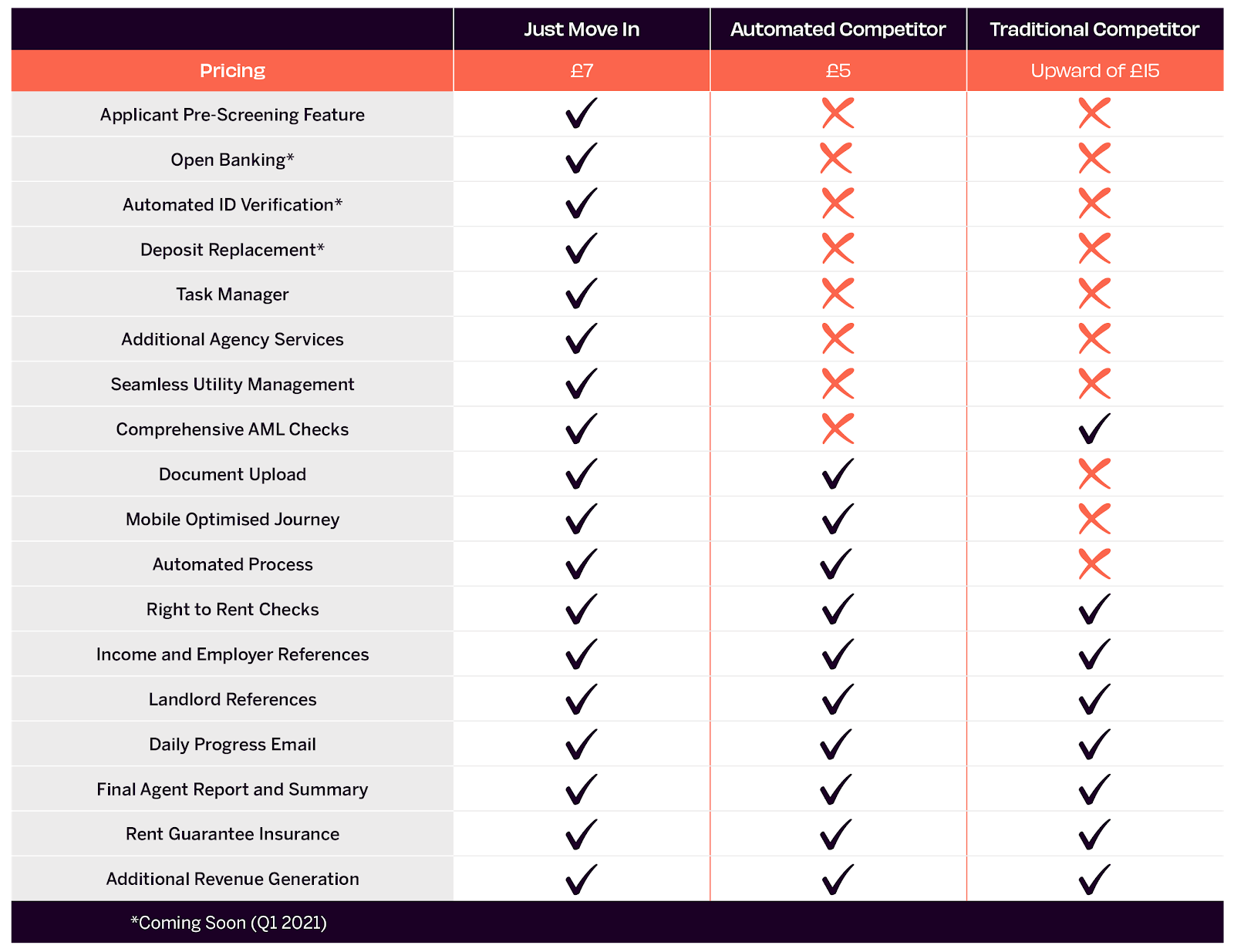 As you can see, if the priority for your agency is references, Right To Rent checks, rent guarantee insurance, and receiving a final report, then you'll be content with either traditional or digital referencing. However, if you're looking for comprehensive AML checks then traditional referencing could be a happier marriage. On the other hand, if you want your tenants to upload documents online (specifically on their mobile) then digital would've caught your eye.
But what if you could have the best of both worlds? Here this before you take the plunge…
The perfect package?
If you're attracted to the speed and usability of digital referencing but worry that the respective checks aren't rigorous enough then fear not. Emerging digital platforms are improving all the time. Indeed, they could offer the security you crave.
For example, our own solution includes a whole host of credit checks including anti-money laundering, PEP and Sanction checks, Credit Lenders Checks, CCJ, and IVA checks. We've also introduced an invaluable pre-screening tool, plus our new automated ID verification, which adds an extra layer of security, is coming soon.
But we're not the only pioneers in this regard. Canopy, Blinc, Lettings Hub and Goodlord all offer a pre-screening facility too. This gives you an initial overview of an applicant's suitability before you've paid for a full reference. And it lets you filter out unsuitable candidates and focus on more eligible options right away. You can also compare multiple applicants simultaneously and save even more time. 
The other very welcome development on the security front – and this one really should win your heart – is the emergence of Open Banking. This makes digital referencing irresistible by revealing so much more than a mere payslip or bank balance; instead, it bares all by revealing not only an applicant's income but also their spending habits, whether they pay their bills on time, and whether their expenditure uncovers any red flags.
Although Open Banking is relatively new – it's something we'll be implementing in 2021 – it promises to be a real game-changer for the tenant referencing industry. Imagine being able to promise your landlords that none of your prospective tenants have payday loans, on-going credit repayment plans, or indeed any worrying gambling habits? 
Don't forget the tenants
Whilst your own happiness in a referencing relationship is vital, it's important to remember the feelings of third parties too. Therefore, it would be a mistake to ignore the tenant experience. After all, a positive tenant journey can lead to positive word-of-mouth and repeat business down the line. 
The referencing process is actually very stressful for tenants. Our research shows that nearly half of them find it more angst-ridden than negotiations, removals, organising utilities, and registering with the council. This shouldn't come as a surprise. After all, tenants are the ones under the spotlight. Plus they have to fill in application forms and supply ID, payslips, bank statements, and everything else. It's no walk in the park. 
Although tenants will always have hoops to jump through, a few digital referencing providers are finally making life easier for tenants. For example, Vouch and Canopy have designed mobile-friendly applications with easy-to-use interfaces. This saves tenants time and effort because they spend so much time on their mobiles. What's more, they can complete applications on the move. 
The big question
So it's finally decision time. Now that we've whispered the pertinent information into your shell-like, will you plump for a faithful traditional tenant referencing agent or find your way into the arms of a modern digital referencing provider? The choice, of course, is entirely yours. 
Although the future would seem to be digital - if only because they remove the barriers that slow down the referencing process - those with longstanding partners may find it hard to make the change. However, you'll never know the benefit of other fishes in the sea unless you dip your toe in the water.
Much should depend, of course, on the specific digital referencing platform you get into bed with. Is its dashboard user-friendly? Can you rely on the thoroughness of the process? If the answer to these questions is 'yes' then experimenting with something new could make sense. 
But there is one further reason why agents are embracing new digital tenant referencing solutions: the convenience of integrating referencing with additional services like Rent Guarantee Insurance. 
Many platforms, including Blinc, Rent4Sure, and Vouch allow agencies to earn commissions when tenants take these services. The result? You could land a new referencing partner that's low maintenance, comes with zero baggage, and helps you bring home the bacon too.
Now that's a match made in heaven.