Doing our bit at the beach
Cleaning up the environment sometimes means getting your hands dirty. Literally. That's what we learned first hand at Chesil Beach on 23rd November, when 25 of us participated in the inaugural Just Move In beach clean. 
After a briefing by a Dorset Wildlife Trust representative, and a talk about the impact of plastic pollution on our coastlines, our team attacked the famous beach in groups. Our target? Anything that was littering this wonderful part of Dorset's Jurassic Coast, which is a UNESCO World Heritage Site.
On a crisp and sunny late autumn day, it wasn't long before we were collecting plastic bottles, random plastic shards, nets, string, glass bottles, general litter, and even the odd car wheel shield. We plucked them from Chesil's steep shingle shelf using litter pickers, and then placed them securely in bin bags with ring holders. 
Battling the bracing wind, we managed to secure 54kg of waste in total during the morning. Not bad at all. However, our efforts were put into perspective when we learned that similar amounts of litter would wash up in the coming days. The war against ocean plastics is an ongoing fight. But at least it felt good to win this small victory.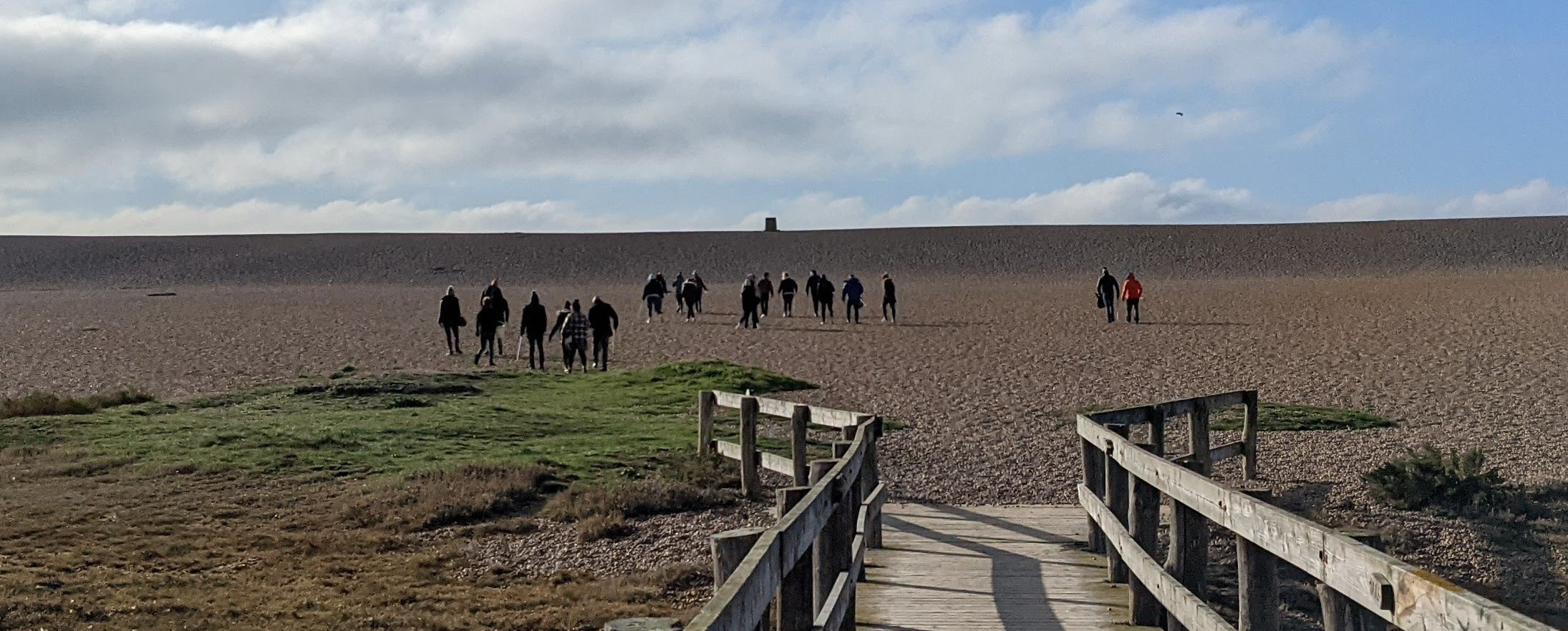 It's scary that we were able to collect so much rubbish in such a short period of time. But when you think that 300 million tons of plastic are produced every year, and that 14 million of this ends up in our precious oceans, it's not particularly surprising. In fact, plastic now makes up 80% of all marine debris. 
Marine life is often collateral damage in this sorry story. Creatures inadvertently ingest the waste and get tangled up in it, which causes all kinds of illnesses and injuries. We've all seen the footage of fish struggling to survive but plastic affects everything else too, from seahorses to sea lions. Absolutely nothing escapes.
Chesil Beach, along with the precious Fleet Lagoon that lies behind it, is teeming with wildlife. You won't see any sea lions or tropical fish in our climate but there are plenty of egrets, terns, a mute swan colony, shore crabs plus lots of other birds and mini-beasts to look after. We learned all about this from our Dorset Wildlife Trust rep during an afternoon walk. 
Of course, ocean plastics harm us humans as well because they often find their way into the food chain. Plastic waste is also terrible for coastal tourism – although at least Chesil Beach, which is one of Dorset's most iconic landmarks with its 29 kilometers of uninterrupted pebbles, looked stunning on the day. 
So would we do this kind of activity again? Definitely. And we'd recommend the experience to any other company that cares about sustainability and the environment. It was a really rewarding experience, even though we were all tired turtles at the end of the day.